---
Warum erkunden Sie Dalmatiens Inseln nicht auf Ihre Art? - mit dem Boot!
Acadia hält eine Auswahl an Freizeit-Booten für Sie bereit. Also raus auf die hohe See und finden Sie heraus, was Kroatiens Charme so ausmacht.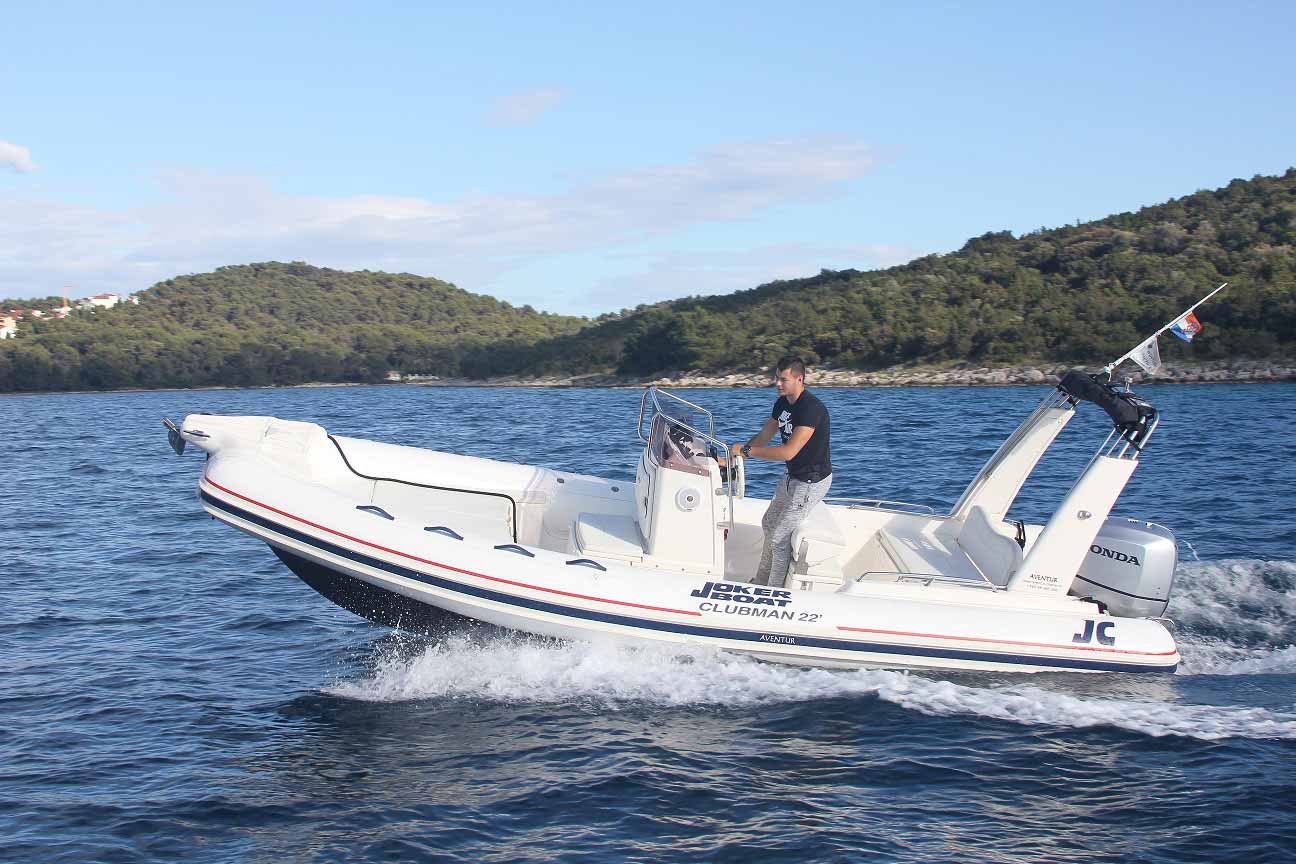 ---
Sehr einfach in der Handhabung bewältigt die Clubman 22 jede Welle mit Anmut. Der vordere Bereich bietet genügend Platz zum Sonnenbaden und das Heck verfügt über eine gemütliche Dinette, die sich ebenfalls in ein großzügiges Sonnendeck transformieren lässt. Ideal zum Chartern, da ausreichend Platz an Bord zur Verfügung steht, sodass jeder, der Freunde und Familie ausführen möchte, auf seine Kosten kommt.
No grid was found for: Jokerboat Clubman 24.
---
The Clubman 24 marks the beginning of the larger Clubman models. It is a spacious, sturdy and well-built boat with all of its priorities in place. Perfect for enjoying a day on the water with friends and family, and spacious enough to accommodate any number of options for comfort. The Clubman 24 comes equipped with a large bow to make it easier to disembark at the pier and to house the anchor with a windlass to prevent any water from entering the front storage space. Availability on request.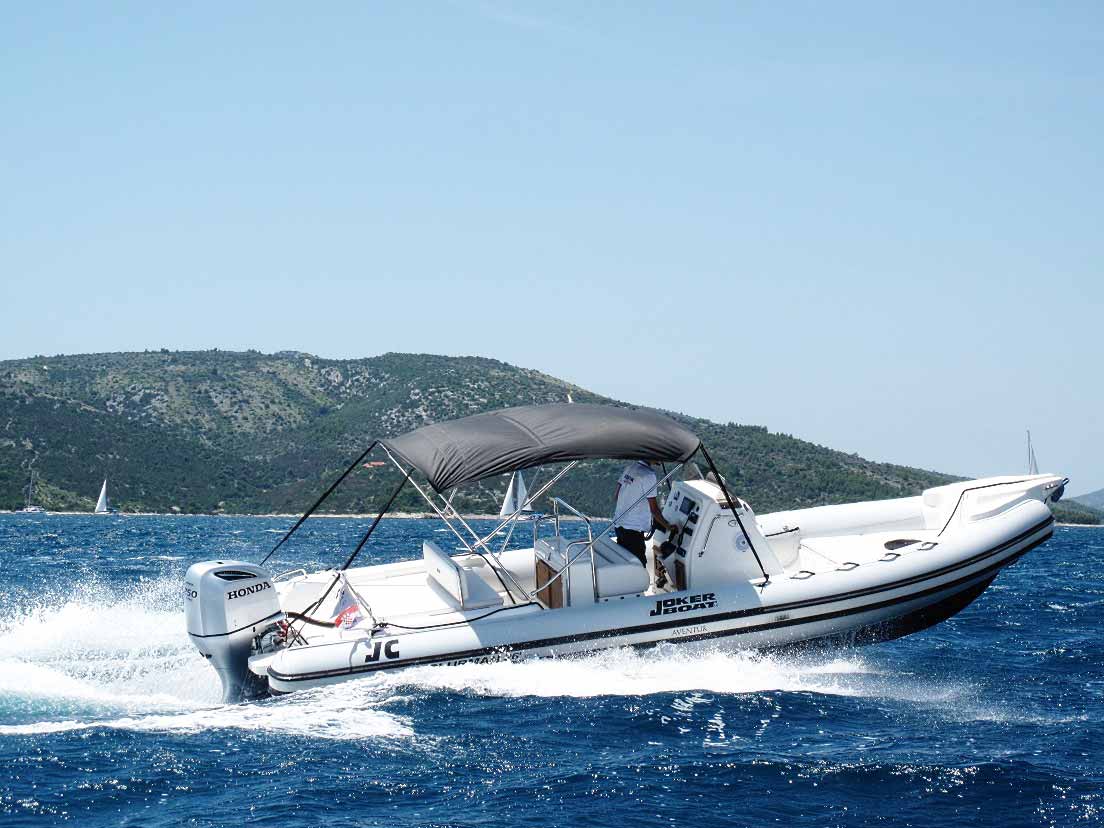 ---
Eines der vermutlich beliebtesten Freizeit-Boote im Kontingent von Clubman. Der Grund für den Erfolg liegt in der Einfachheit, der angenehmen Größe und dem kostengünstigen Preis. Zusätzlich verschafft die große Auswahl an montierbaren Zubehör einen Vorteil gegenüber anderen Modellen. Und die Lagerfläche unter jeder Backskiste ist riesig.
No grid was found for: Jokerboat Clubman 28.
---
The Clubman 28 features a large bow, (front) sunbathing area, and a comfortable dinette at the stern (back) that doubles as an equally large sunbathing space when the stowaway table is used as a platform. The Clubman 28 is ideal for a family at sea. To make it even more family-friendly, it features: a bathroom within the hull (with WC, sink and small shower), a small kitchen with stove (gas or induction heating can be substituted with a teak cutting board), a sink under the driver's seat and a comfortable stowaway table with two positions. Availability on request.
---
Die Mainstream 800 wurde designt um aufzufallen. Sie ist ein Rigid Hull Inflatable Boat (RHIB), das sowohl schön und elegant, als auch aggressiv und stylisch sein kann. Die Form des Rumpfes ist für den Steuerman definitiv von Vorteil, da sich das Boot auch bei hohen Geschwidigkeiten gut lenken lässt. Mit einem protzigem Audiosystem und einigen Flaschen Champagner lassen sich sogar die größten Meeres-Skeptiker überzeugen.
---
Die Wide 520 ist das optimale RHIB Boot für Ihr Freizeitvergnügen. Es bietet Platz, Komfort, Leichtigkeit beim Segeln und Platz für bis zu 8 Personen. Besondere Merkmale sind u.a. die Lagerbereiche am Bug, wo sämtliches Sicherheitsequipment verstaut und schnell hervorgeholt werden kann, sowie das Heck, wo drei 1,70m große Personen am Boden des Rumpfes liegend Platz finden können. Die Wide 520 ist klein aber äußerst robust. Ein weiter Rumpf garantiert große Stabilität beim Anlegen.
No grid was found for: MV Marine 18 GT 2019.
---
MV Marine boats just like the 18 GT Technology are computer-designed. This beautiful boat is not only fast, but easy on fuel consumption, and is extremely comfortable. Availability on request.
---
Wie die 18 GT wurde auch die 27 GT Technology am Computer designt und verfügt über ausreichend Geschwindigkeit, Geräumigkeit und technische Besonderheiten. Sie bietet zudem Platz für bis zu 12 Personen.